Non Alcoholic Cocktails
Banks Botanicals brings a contemporary non-alcoholic, organic, sugar free distilled spirit that is made to be savoured.

Mix things up with and try a couple of new cocktail inspirations.
Banks Smokey Botanists Mocktail
DIFFICULT | SWEET | WINTER
Complex, layered created to sip & savour.
Created by Melbourne mixologist Imogen Weller at Rice, Paper Scissors the Smokey Botanist combines layers of flavour from smoked Rosemary to bitter sweetness of the Hibiscus to create a complex, drink to savour and sip.
Hibiscus flowers are large, brightly coloured flowers that range in colour from pink and red to yellow and white. They bring a tart, slightly sour flavour to this cocktail that balances perfectly with the layers of complexity in flavour of Banks Herbarium to create this smoke infused earthy drink to savour.
The smoked rosemary provides a warm and savory aroma to this drink, while also adding a layer of complexity to the flavour profile. 
If you love layers to your drinks, this is one for you to try.
Ingredients
60ml Banks Botanicals

15ml Rosemary syrup

10ml Hibiscus syrup

Garnish with a Hibiscus flower

Rocks Glass
Recipe
Use a cocktail mixing glass or a glass jug

Pour Banks into the mixing glass

Add smoked rosemary syrup*

Finish with Hibiscus syrup

Add ice to chill & Stir

Strain and pour into a rocks glass

Add ice and garnish with a Hibiscus flower
Tip
To make smoked rosemary syrup place a rosemary branch quickly over an open flame for 10 secs. Place the smoking rosemary into a container and leave to sweat for 30 secs. Add the smoked rosemary into a blender with some cocktail syrup and blend.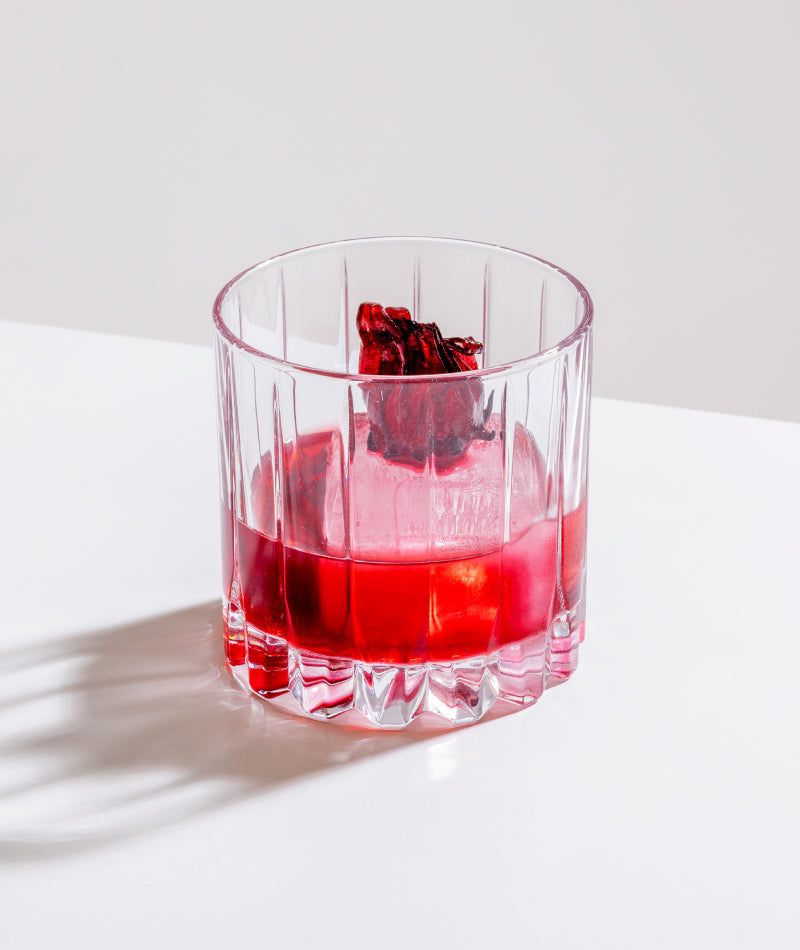 Explore Cocktails
Mix Notes
When mixing drinks with a non-alcoholic spirit such as Banks we want to reduce time that Banks mixes with Ice before the drink is served.
This is because the flavours are water soluble so as the ice melts it dilutes the flavours. It is suggested to always dry mix ingredients in a shaker before pouring over ice or adding ice to the shaker.
@banks.botanicals
Stay in the mix