Non Alcoholic Cocktails
Banks Botanicals brings a contemporary non-alcoholic, organic, sugar free distilled spirit that is made to be savoured.

Mix things up with and try a couple of new cocktail inspirations.
Pink Grapefruit Tonic
EASY | CITRUS | SUMMER
Easy to Mix, Pretty to Serve.
There are countless ways to put a twist on a G&T, this change up adds citrus notes of ruby pink grapefruit to this classic drink. 
Banks Herbarium, ruby pink grapefruit and tonic combine for this refreshing, summery & citrusy non-alcoholic Gin & Pink Grapefruit tonic recipe.
Pink grapefruit originated in the Caribbean and was first cultivated in Florida in the 1920s. Soon after, it became popular in cocktails in the US for its tart, bright, citrus flavour. Pink Grapefruit often used in drinks like the margarita and the daiquiri.
Easy to mix and pretty to serve. The ruby grapefruit is bright and tart & combines perfectly with the boldness in flavours of the Tasmanian Pepper Berries & tonic. 
Ingredients
60ml Banks Botanicals

Premium Pink Grapefruit tonic water 

Highball Glass

Garnish with Ruby Grapefruit
Recipe
Gather the ingredients. 

Fill a highball glass with ice. 

Measure & pour over ice, 60ml of Banks Herbarium Batched Distilled Non-Alcoholic Spirit into your glass. 

Top with premium pink grapefruit tonic. 

Gently stir to combine. 

Garnish with a slice of ruby grapefruit.

Serve & Enjoy
Tip
Add a sprig of Rosemary. This brings the aromatics of the rosemary and adds a touch of green to your serve.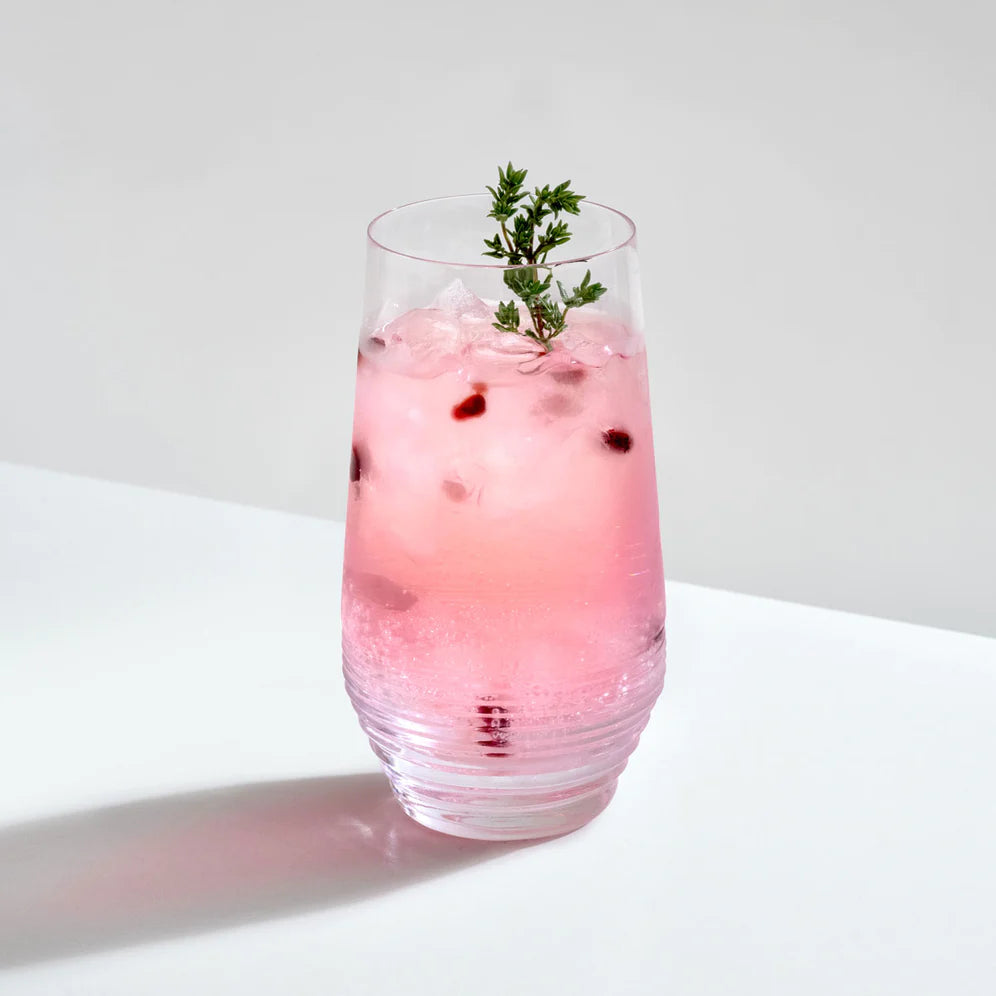 Explore Cocktails
Mix Notes
When mixing drinks with a non-alcoholic spirit such as Banks we want to reduce time that Banks mixes with Ice before the drink is served.
This is because the flavours are water soluble so as the ice melts it dilutes the flavours. It is suggested to always dry mix ingredients in a shaker before pouring over ice or adding ice to the shaker.
@banks.botanicals
Stay in the mix